October 26, 2011
3,500 notes
The announcement that Nexus One users won't be getting upgraded to Android 4.0 Ice Cream Sandwich led some to justifiably question Google's support of their devices. I look at it a little differently: Nexus One owners are lucky. I've been researching the history of OS updates on Android phones and Nexus One users have fared much, much better than most Android buyers.
I went back and found every Android phone shipped in the United States1 up through the middle of last year. I then tracked down every update that was released for each device - be it a major OS upgrade or a minor support patch - as well as prices and release & discontinuation dates. I compared these dates & versions to the currently shipping version of Android at the time. The resulting picture isn't pretty - well, not for Android users: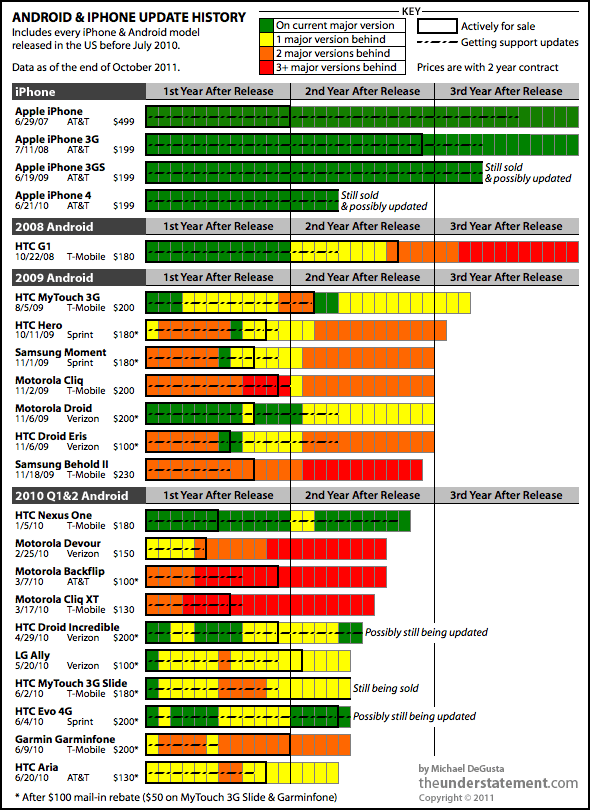 Other than the original G1 and MyTouch, virtually all of the millions of phones represented by this chart are still under contract today. If you thought that entitled you to some support, think again:
7 of the 18 Android phones never ran a current version of the OS.
12 of 18 only ran a current version of the OS for a matter of weeks or less.
10 of 18 were at least two major versions behind well within their two year contract period.
11 of 18 stopped getting any support updates less than a year after release.
13 of 18 stopped getting any support updates before they even stopped selling the device or very shortly thereafter.
15 of 18 don't run Gingerbread, which shipped in December 2010.
In a few weeks, when Ice Cream Sandwich comes out, every device on here will be another major version behind.
At least 16 of 18 will almost certainly never get Ice Cream Sandwich.
Also worth noting that each bar in the chart starts from the first day of release - so it only gets worse for people who bought their phone late in its sales period.
Why Is This So Bad?
This may be stating the obvious but there are at least three major reasons.
Consumers Get Screwed
Ever since the iPhone turned every smartphone into a blank slate, the value of a phone is largely derived from the software it can run and how well the phone can run it. When you're making a 2 year commitment to a device, it'd be nice to have some way to tell if the software was going to be remotely current in a year or, heck, even a month. Turns out that's nearly impossible - here are two examples:
The Samsung Behold II on T-Mobile was the most expensive Android phone ever and Samsung promoted that it would get a major update to Eclair at least. But at launch the phone was already two major versions behind — and then Samsung decided not to do the update after all, and it fell three major OS versions behind. Every one ever sold is still under contract today.
The Motorola Devour on Verizon launched with a Megan Fox Super Bowl ad, while reviews said it was "built to last and it delivers on features." As it turned out, the Devour shipped with an OS that was already outdated. Before the next Super Bowl came around, it was three major versions behind. Every one ever sold is still under contract until sometime next year.
Developers Are Constrained
Besides the obvious platform fragmentation problems, consider this comparison: iOS developers, like Instapaper's Marco Arment, waited patiently until just this month to raise their apps' minimum requirement to the 11 month old iOS 4.2.1. They can do so knowing that it's been well over 3 years since anyone bought an iPhone that couldn't run that OS. If developers apply that same standard to Android, it will be at least 2015 before they can start requiring 2010's Gingerbread OS. That's because every US carrier is still selling - even just now introducing2 - smartphones that will almost certainly never run Gingerbread and beyond. Further, those are phones still selling for actual upfront money - I'm not even counting the generally even more outdated & presumably much more popular free phones.
It seems this is one area the Android/Windows comparison holds up: most app developers will end up targeting an ancient version of the OS in order to maximize market reach.
Security Risks Loom
In the chart, the dashed line in the middle of each bar indicates how long that phone was getting any kind of support updates - not just major OS upgrades. The significant majority of models have received very limited support after sales were discontinued. If a security or privacy problem popped up in old versions of Android or its associated apps (i.e. the browser), it's hard to imagine that all of these no-longer-supported phones would be updated. This is only less likely as the number of phones that manufacturers would have to go back and deal with increases: Motorola, Samsung, and HTC all have at least 20 models each in the field already, each with a range of carriers that seemingly have to be dealt with individually.
Why Don't Android Phones Get Updated?
That's a very good question. Obviously a big part of the problem is that Android has to go from Google to the phone manufacturers to the carriers to the devices, whereas iOS just goes from Apple directly to devices. The hacker community (e.g. CyanogenMod, et cetera) has frequently managed to get these phones to run the newer operating systems, so it isn't a hardware issue.
It appears to be a widely held viewpoint3 that there's no incentive for smartphone manufacturers to update the OS: because manufacturers don't make any money after the hardware sale, they want you to buy another phone as soon as possible. If that's really the case, the phone manufacturers are spectacularly dumb: ignoring the 2 year contract cycle & abandoning your users isn't going to engender much loyalty when they do buy a new phone. Further, it's been fairly well established that Apple also really only makes money from hardware sales, and yet their long term update support is excellent (see chart).
In other words, Apple's way of getting you to buy a new phone is to make you really happy with your current one, whereas apparently Android phone makers think they can get you to buy a new phone by making you really unhappy with your current one. Then again, all of this may be ascribing motives and intent where none exist - it's entirely possible that the root cause of the problem is just flat-out bad management (and/or the aforementioned spectacular dumbness).
A Price Observation
All of the even slightly cheaper phones are much worse than the iPhone when it comes to OS support, but it's interesting to note that most of the phones on this list were actually not cheaper than the iPhone when they were released. Unlike the iPhone however, the "full-priced" phones are frequently discounted in subsequent months. So the "low cost" phones that fueled Android's generally accepted price advantage in this period were basically either (a) cheaper from the outset, and ergo likely outdated & terribly supported or (b) purchased later in the phone's lifecycle, and ergo likely outdated & terribly supported.
Also, at any price point you'd better love your rebates. If you're financially constrained enough to be driven by upfront price, you can't be that excited about plunking down another $100 cash and waiting weeks or more to get it back. And sometimes all you're getting back is a "$100 Promotion Card" for your chosen provider. Needless to say, the iPhone has never had a rebate.
Along similar lines, a very small but perhaps telling point: the price of every single Android phone I looked at ended with 99 cents - something Apple has never done (the iPhone is $199, not $199.99). It's almost like a warning sign: you're buying a platform that will nickel-and-dime you with ads and undeletable bloatware, and it starts with those 99 cents. And that damn rebate form they're hoping you don't send in.
Notes on the chart and data
Why stop at June 2010?
I'm not going to. I do think that having 15 months or so of history gives a good perspective on how a phone has been treated, but it's also just a labor issue - it takes a while to dredge through the various sites to determine the history of each device. I plan to continue on and might also try to publish the underlying table with references. I also acknowledge that it's possible I've missed something along the way.
Android Release Dates
For the major Android version release dates, I used the date at which it was actually available on a normal phone you could get via normal means. I did not use the earlier SDK release date, nor the date at which ROMs, hacks, source, et cetera were available.
Outside the US
Finally, it's worth noting that people outside the US have often had it even worse. For example, the Nexus One didn't go on sale in Europe until 5 months after the US, the Droid/Milestone FroYo update happened over 7 months later there, and the Cliq never got updated at all outside of the US.
October 18, 2011
630 notes
Google announced the mouthful known as "Android 4.0 Ice Cream Sandwich" today. The first bullet point of their presentation was a new system-wide font, Roboto. John Gruber quickly pointed out what had caught my eye as well: Roboto sure looks a lot like Helvetica, the typeface so famous they made a movie about it.
Notably, Helvetica was the default font of iOS until Apple switched to Helvetica Neue last year. Not that there's necessarily anything wrong with that, as Picasso allegedly said: "good artists copy, great artists steal".
You be the judge: here's an animation comparing the two.
Click & it will stop so you can manually cycle through at your own pace.
October 4, 2011
864 notes
Management caring deeply about their company's products and using them every day is almost always a prerequisite of making great products. Facebook CEO Mark Zuckerberg really does use Facebook all day. Twitter CEO Dick Costolo tweeted at least 30 times just yesterday. At the other extreme, I started at Apple under Gil Amelio, who used to have his emails printed out for him. On that basis alone it was hardly surprising he was a disaster.
So how about Google CEO Larry Page? It's been over 3 months since Google+ launched, and he's only made 7 public posts, including just one since mid-August. Turns out that's still 7 more posts than Executive Chairman Eric Schmidt has ever made. Since Google+ launched, Mr. Schmidt has found time to retweet Ivanka Trump's promotion of "Snow Flower & The Secret Fan", but apparently couldn't find time to even join Google+. He's nowhere to be found in the search results, and one can only assume he's using his real name. He's apparently also still using a Blackberry, so he's hardly been a leader in the eat-your-own-dogfood department.
That seems to be a common problem for Google's management when it comes to Google+:
Only 3 of the 12 people listed on the Google Management Team page have ever made a single public post on Google+, totaling just 29 posts ever and only 6 in September.
It doesn't stop with the board and the high level management. Going one level down to the 6 Senior Vice Presidents anointed in Larry Page's reorganization last April still reveals a lack of engagement: 4 of the 6 SVPs have made no posts since August and they've managed only 9 posts ever, all but 1 of which were by Andy Rubin.
In total, of the 18 most senior people charged with overseeing Google, 11 have either not joined or have never made a single public post, and 5 have barely used it at all. Only Senior VP of Social / head of Google+ Vic Gundotra and SVP of Chrome Sundar Pichai have made any effort to seriously adopt Google+.
The Raw Data
Here's the full table of public posts since the beginning of Google+. Note that I'm counting a photo album as 1 sharing event and also that Vic Gundora's posts page seems to fail if you try to go back past mid-July, hence the data gap there.
Pre-emptive Responses
1. "Google+ isn't just about public sharing"
No, it's not. But one of the key distinguishing features of Google+ is combining Facebook-style private sharing / friending with Twitter-style public posts / following. Even Facebook has now emulated this and Facebook's management is far more active on their public feeds than Google is on theirs.
Further, I think it's reasonable to assume a correlation between private use & public use: if you were constantly posting things on a service and each time you were given the option to make it public or private, surely sometimes you'd make it public, especially as a somewhat public figure wanting to help your own company's new service get going.
2. "The board/top management shouldn't be expected to use Google+"
Yes, they should - maybe not every member extensively, but not even a single post by a single non-executive member of the board? Can you imagine Fred Wilson not publicly using the major new product of one of his companies?
3. "Steve Jobs was really active on Ping?"
Ok, fair enough. But a music social network isn't even remotely fundamental to Apple's future whereas clearly Google thinks Google+ is central to its future.
4. "Google+ is really popular!"
Yes, it seems to be off to a good start. But management being disconnected from the company's products bodes poorly for the long term - just ask HP.
"There are now over 500,000 Android devices activated every day, and it's growing at 4.4% w/w"
Andy Rubin
June 28, 2011


By that measure, there should now be over 900,000 Android activations per day and October 20th should be the first day Google crosses the impressive milestone of 1 million activations in a single day: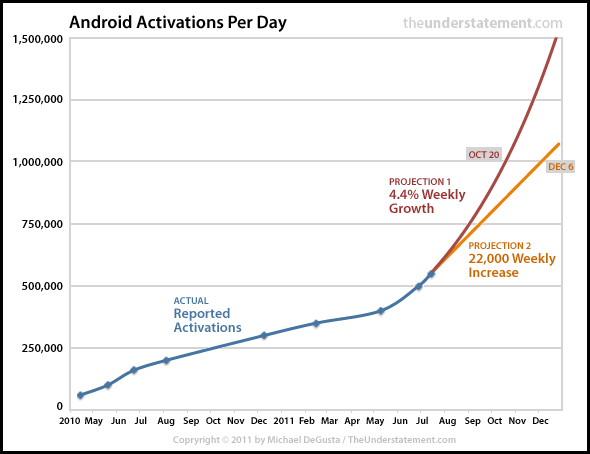 They Made The Rules
From April 2010 until July 2011, Google periodically announced the number of Android device activations per day. While the specific definition of an activation is a bit unclear1, it's the measurement Google itself has repeatedly chosen to publicly mark the success of its mobile platform. I've collected all 9 occurrences I could find where Google has reported this metric:
The most information was given in Andy Rubin's aforementioned tweet where he announced not only that the number was now "over 500,000" but that it was "growing at 4.4%" week on week. Two and a half weeks later, during Google's second quarter earnings call, they announced the number was over 550,000 - demonstrating that the 4.4% figure was in full effect. Extrapolating out from Rubin's numbers leads to the expectation of 1 million activations per day on October 20th, as indicated by "Projection 1" in the chart above.
Tweet Carefully
That said, it's entirely possible that Mr. Rubin overreached when he stated that the week-on-week growth was 4.4%, rather than a flat 22,000 per week (i.e. 4.4% of 500,000). Maintaining an ever accelerating growth curve as your base grows is challenging, even in a boom, and the history of Android itself had yet to truly demonstrate such a curve at the time of Rubin's tweet.
It took 29 weeks for activations per day to go from 100,000 to 300,000 - an increase of 200,000. After that, the next increase of 200,000 took… another 29 weeks. So from May 2010 til June 2011 there didn't seem to be a compounding growth curve, rather the number seemed to increase fairly linearly at roughly 7,000 per week. Clearly that must have started increasing rapidly ahead of Rubin's tweet in order to reach the 22,000 / 4.4% number.
Even if Mr. Rubin's 4.4% statement was overstating Android's growth and they just maintained the flat 22,000/week increase, there should still be over 800,000 activations/day currently and it should still be crossing 1 million/day by early December, as indicated by "Projection 2" in the chart above.
Silence Isn't Golden
One might have expected Google to tout a milestone like 750,000 or 800,000 activations per day, especially in light of all the recent Android bad news.
As Steve Jobs put it: "Usually, if they sell a lot of something, you want to tell everybody." The trouble with telling everybody is that then if you ever stop telling everybody, it looks terrible. The inevitable question is "what bad news are you trying to hide?" Just ask Samsung, which decided it wanted to hide its (presumably poor) tablet sales numbers. Or RIM, which decided to stop reporting new subscriber numbers and average selling prices, presumably because both are quickly heading towards zero. This is surely one of the reasons Amazon has famously never reported any actual Kindle sales figures.
Since Google first reported activations in April 2010, they've gone an average of 8 weeks (median: 6.5 weeks) between reports. The longest gap is 18 weeks between the 200,000 milestone and the 300,000 Rubin tweet. It has been 11.5 weeks since the last report, so it's probably too soon to declare it a truly suspicious silence, despite some seemingly major milestones having passed quietly.
When Will We Know?
Google first spoke about device activations on their Q1 2010 earnings call and last addressed it on their Q2 2011 earnings call on July 14th. So Google should say something on or before their mid-October Q3 earnings call, which will be just about when they're crossing the 1,000,000/day mark if their 4.4% growth has held up. If they don't mention an activations number on or before the call, the estimable Brian S Hall will get more evidence for his contention that we might be at peak Google and there will be even more calls for Sergey Brin to explain his unusually high Angry Birds scores.
Whether Google hits the number, misses the number, or says nothing at all, Android will soon have another landmark success, or another cause for concern.
September 29, 2011
502 notes
Four years ago Amazon introduced the original Kindle. Two years ago, there were just two models: the Kindle 2 and the large screen Kindle DX. After this week's announcements, Amazon is now selling 14 different models under the Kindle brand.
The current Kindle lineup varies on no fewer than 11 different features by my count, with 2 to 5 possible variants for each of the 11 features. Many options are tied to others and can't be chosen independently. Adding to the complexity, there's not even a specific price for a particular feature. Depending on the model, getting rid of the "special offers" advertising can add $30, $40, or $50 to the price, while adding 3G can cost either $40 or $50. Even with these price variations, 13 of the 14 SKUs are crammed into a price range of just $120, from $79 to $199.
Here's the Kindle product tree, rendered as concisely as humanly possible. Click through if you want to see the chart full size - I couldn't get it any smaller, despite omitting the width/height/depth differences between the various models:
And the inevitable comparison…
Technically Apple has 18 different iPad models while Amazon has "only" 14 different Kindles. However, Amazon has taken (or perhaps just ended up with) a vastly more complicated approach to segmenting and differentiating the Kindle models.
Here's the iPad product tree:
What's Amazon Up To?
Everyone expected the Fire tablet but I don't think many expected Amazon to introduce two new model lines (the basic Kindle and the Kindle Touch) and keep the existing "Kindle Keyboard" models, in addition to the DX.
One possibility is that they're just running off old inventory, but that's definitely not how Amazon's positioning the older models. If they really wanted a simpler lineup, the old models would clearly be labeled closeout, not included on the top of each Kindle page and in all of their comparison charts, et cetera.
A second possibility is that Amazon couldn't internally reach consensus about the product line, but that doesn't match up with Amazon's history nor Jeff Bezos's demonstrated personal leadership style. Amazon isn't Microsoft or Google.
So the most likely possibility is that Bezos and Amazon somewhat bizarrely believe this lineup is a rational one. It's a range of options they apparently think will each find a substantive enough user base to justify the extra product line complexity and production/support hassles.
Why Amazon ended up with so many models in such a relatively narrow space is unclear, but right now the message from Amazon seems pretty clear to me: "we stopped making any choices, so you're gonna have to start making a lot of them."